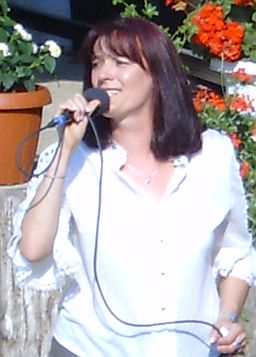 My name is Anna Peller and I live with my family in Hungary. My life is about singing and music.
I grew up at Csepel, Budapest. I started to learn sound-formation here and I continued it at OSZK (Hungarian Centre for Dance Music) with my teachers, Olga Sik and István Gyarmati. I would have liked to become a dance singer, but I was destined to something else. I moved to Pilisvörösvár and I become one of the founding members of the local minority mixed chorus in a few years. Before long, I had solo performances and I sang with numerous bands.
My repertory became even wider: besides operettas, classical songs, musicals, dance songs, Hungarian melodies, folksongs a brilliant yodel song is featured in it. The yodel song could be seen in the TV, in the Friderikusz Show.
Misic took me to many places in Hungary and in abroad, as well. In abroad, I got to Germany most often, to some places even many times: Gröbenzell, Wehrheim, Altheim, Heldenfingen, Grüningen, Oberaspe, Rot a Rot, Zweibrücken, Rosengarten, Bachnang, Kassel Velmar, Trier, Stuttgart, Mainz. I also sang in Garzdai (Lithuania), Limos (France), and then came Cleveland, Akron, Chicago, Detroit, Milwoukee (USA), Rio de Janeiro, Assis-Sao Paulo, Rolandia Parana (Brazil), Paraguay, Argentina, Transylvania, the Czeh Rebublic and Slovakia.
I participated in many charity concerts: for the victims of fire and for the children, at the ambulance ball, at the home for the pensioners and at pensioners' gatherings. In the meantime, I could release a casette and a CD with the unselfish aid of the local entrepreneurs. My aim was to bring momentary joy to lives of my fellow music lovers.